Tankerman services you can trust
Gulfstar's tankerman services are key to efficient cargo transfer operations. Gulfstar can provide comprehensive cargo transfer services for oil, gas and petrochemical, and our tankermen have executed more than 10,000 transfers without a spill. That demonstrates our commitment to safety, the environment and our customers.
Oil, gas and petroleum companies need more than just a tankerman – they need an expert in charge. All of our tankermen are certified by the U.S. Coast Guard and have attained HAZWOPER Technician status, which is only offered to those that complete at least 24 hours of training. Gulfstar handles this training to ensure every tankerman epitomizes our focus on safety and responsiveness. Gulfstar is one of only a few shore tankerman companies that demands this level of HAZWOPER training from its professionals, so our tankermen are equipped to handle a full array of emergency situations.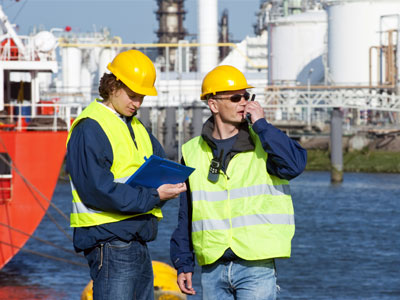 In addition to extensive training, Gulfstar's tankermen can provide a range of services, including dangerous liquid transfers, liquefied flammable gas transfers, ship lightering and equipment rental, high hydrogen sulfide cargo transfers and bottle watch operations.
What tankerman services does Gulfstar offer?
Gulfstar is prepared to oversee your cargo transfers and ensure they are handled without incident. Our tankerman services include:
Dangerous liquid transfers – In the oil, gas and petroleum industries, every liquid cargo transfer is potentially dangerous, and should be handled as such. For this reason, Gulfstar's tankermen are thoroughly trained in transferring a variety of liquids, including petrochemicals, agricultural and other chemicals, black oil and refined petroleum products. Each one poses its own risks and challenges, which is why our tankermen are required to review all safety data sheets for any cargo that is to be transferred. This level of preparedness protects personnel, equipment and the environment. Some liquids are particularly challenging to handle and transfer, but Gulfstar's tankermen are ready for them. Our tankermen are experts at controlling product flow and speed and can efficiently transfer difficult to handle materials like black oil.
Liquefied flammable gas transfers – Liquefied flammable gas is a serious risk if not properly controlled and handled during transferring. A single leak can be enough to cause a deadly outcome if not detected right away. Gulfstar's tankermen are trained to respond to the dangers inherent to liquefied flammable gas, and have experience in transferring these volatile chemicals.
Ship lightering and equipment rental – Gulfstar's tankermen can also assist with vessel to vessel transfers and can provide equipment resources to facilitate such a transfer. Ship lightering is essential for reducing a vessel's draft, and this is why most oil and gas companies require it for their larger vessels. Lightering, though, is also useful for reducing port time for tankships and its associated costs. With Gulfstar's ship lightering services, barge owners can transport cargo to the vessel and discharge, instead of waiting for their spot on the berthing schedule. Ship lightering is an involved process, however, and requires considerable equipment resources to properly execute. Fortunately, Gulfstar can help its customers procure this equipment, which may include cargo transfer hoses, vapor recovery and balance hoses, detonation arrestors, aircraft and bumper tires, cargo and vapor reducers, ship mooring lines and communication equipment like loud hailers and radios. Whatever your operation's equipment needs, Gulfstar can provide a cost-effective and prompt rental.
High hydrogen sulfide transfers – Hydrogen sulfide is found in all crude oil and petroleum products to some extent and may be present in dangerous concentrations during some transfers. Gulfstar's tankermen are experienced in transferring cargo when hydrogen sulfide is present and know which safety precautions to take to ensure it does not cause harm to personnel. All of our tankermen are equipped with modern hydrogen sulfide detection technologies, including a personal hydrogen sulfide gas detecting monitor. During every transfer, no matter the cargo, the tankerman is required to test and operate the monitor, and ensure it is properly configured. Further, Gulfstar's tankermen can deploy full array monitors, which offer a comprehensive layer of hydrogen sulfide detection. These technologies ensure dangerous levels of hydrogen sulfide are detected before anyone accidentally enters the area. Gulfstar tankermen are trained to respond immediately should hydrogen sulfide concentrations rise above acceptable limits. The transfer is halted right away, additional breathable air is brought to the site and additional personnel are assigned to bottle watch.
Supplied air and bottle watch operations – Gulfstar also offers bottle watch expertise to its customers and requires tankermen to be familiar with any cascade air breathing systems on site. Gulfstar places added emphasis on proper bottle watch. Our employees are provided hands-on, practical training in handling the supplied air equipment. This is done at the manufacturer's facilities, which means our tankermen have worked directly with the equipment's designers and experts. During this training, Gulfstar employees are shown how to configure different equipment settings, and how to properly deploy the equipment in the field. Further, every employee is required to put the equipment on and experience the physical effects of running out of breathable air, which they must respond to by making use of an escape unit. There are few regulations in place detailing bottle watch training, but Gulfstar works diligently to provide the most comprehensive and useful training to its people. It's another way Gulfstar sets itself apart. Our experts can also provide bottle watch services to our customers, ensuring all supplied air equipment is deployed and configured properly, and that all personnel are provided with sufficient breathable air.
Cargo transfers are complex and potentially dangerous if not properly managed. Gulfstar's tankerman services ensure that those dangers are mitigated with expertise, so our customers don't have to worry about their personnel, vessels or product.
Related Topics: